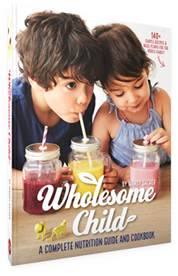 Wholesome Child Nutrition Guide and Cookbook
The Wholesome Child Book is an invaluable companion that will help support your family's health journey while bringing the fun and enjoyment back to mealtimes.
"This book has been an absolute delight to read - thank you! Not only is it informative, but extremely insightful too. Today I made the sweet potato pizza and chicken nuggets. Both major successes for my fussy and sometime problematic eater. She said the pizza looked and tasted like gingerbread men! Looking forward to working on more of the recipes and tips! Thanks again xx"
– Jacqui Shields
Find Out More